Trinity Print get behind the Lan-Tarn Fest
Bradford based company Trinity Print continue their support of Barnsley Hospital Charity events with our up and coming Lan-Tarn Fest.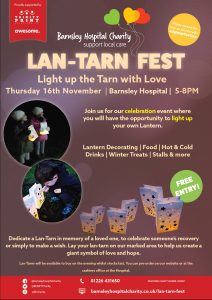 Andy at Trinity Print said "As contract printers for Barnsley NHS Foundation Trust, and are very proud to be supporting Barnsley Hospital Charity with all their fantastic work that they do, and their support to local care. They are devoted to their cause  and work very hard for the sake of others with a respectful understanding. Their efforts and devotion are making a difference to others, and we are more than happy to continue supporting them."
Fundraising Coordinator Lisa Calvert said "It's fantastic that Trinity have once again chosen to support us with our printing needs, and it is greatly appreciated. Our charity events aim to raise vital funds for our charity and cost savings such as these make a huge difference to the event. We are grateful to Trinity for all their support"
The Lan-Tarn event is a first for Barnsley Hospital and celebrates love, life and hope for people in and around Barnsley. The event is being held on Thursday 16th November at Barnsley Hospital from 5pm to 8pm.