Making a Donation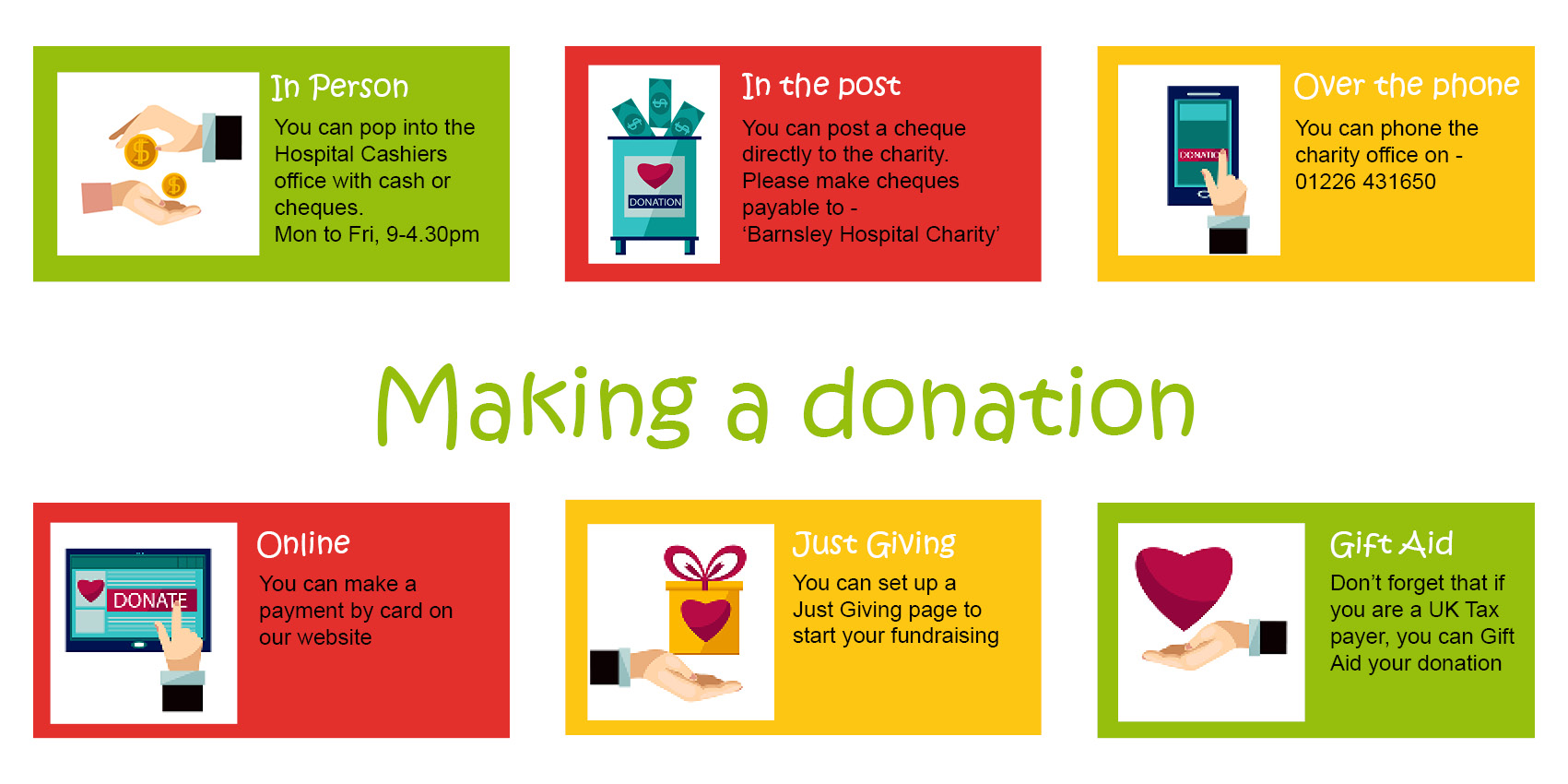 There are multiple ways to either make a donation or pay your fundraising to the charity…

In Person
You can pop into the Hospital Cashiers office (located in the corridor directly behind the main reception desk at Barnsley Hospital) with cash or cheques. The cashiers office is open Monday to Friday 9am to 4.30pm.

Post
You can post a cheque directly to the charity (Barnsley Hospital Charity, Barnsley Hospital, Gawber Road, Barnsley S75 2EP). Please make cheques payable to 'Barnsley Hospital Charity' and enclose either a Fundraising Donation Form or a covering letter detailing the reason for donation.

Phone
You can phone the charity office on 01226 431650 and make a card payment or have a chat about your fundraising.
The office is usually manned Monday to Friday from 9am to 4.30pm, however due to the nature of our fundraising work we may be out and about. If we are, just leave us a voicemail with your details and we'll call you back!

Online
You can make a payment by card by clicking here. Once this has been done, please contact the charity to let us know how this was raised or the reason for donation. You can do this on our online Fundraising donation form or drop us an email – barnsleyhospitalcharity@nhs.net.
If we do not receive anything, we will assume this is a general donation to the charity rather than fundraising activity.

Just Giving
You may choose to set up a Just Giving page to support your fundraising activities. This is an easy way for family members to give to your cause.
To set up a Just Giving page, please visit our charity Just Giving Page and click on the "Fundraise for Us" button, following the step by step instructions.
Please note, Just Giving will pay this directly to the charity so once your page is set up, you don't need to do anything to transfer the funds across to us.

Gift Aid
Don't forget that if you are a UK Tax payer, you can GiftAid your donation by completing our GiftAid form. This means we can claim back an extra 25p in every £1 you donate to the charity at no extra cost to you.
Lottery
Find out more about our lottery by clicking here
Thank You for your fantastic support!