Tiny Fundraising
Hi Everyone, Rebecca here again with an update on what's occurring at the Charity these days!
The Charity's aim is to enhance the care and treatment of patients at Barnsley Hospital by encouraging the public and staff to give charitable donations to the Trust. We fund projects, items and schemes that go above and beyond what  the NHS already provides.
The majority of our fundraising income comes from patients, their families, NHS staff and members of the public who support our work in the form of donations and legacies. These funds can be used for a number of purposes including: additional medical equipment, staff development, improvements to patient facilities and medical research.
As an example, with the Tiny Hearts Appeal, which is one of our primary focuses at the moment, we aim to raise  £1 million to fund the building of a new neonatal unit for the tiny babies who are born premature or poorly. It's a huge job and so we need to raise lots of money to pay for the unit and specialist equipment. The unit currently looks like something from Call the Midwife. Okay, maybe that's a bit of an exaggeration but it's still totally old-fashioned. The ward needs updating so that it can deliver the type of service that the people of Barnsley deserve, and also to aid our fantastic, tireless staff with state-of-the-art equipment!
This will also benefit the families of tiny babies. Currently the ward can accommodate two families to stay overnight with their child, the new ward will accommodate more families and will be built closer to the Birthing Centre so that the babies can receive immediate care and won't have to be taken too far from their mummy!
At Barnsley Hospital we are always thankful for the charitable donations we receive.  There are all kinds of ways you can help raise money for Barnsley Hospital Charity.  For instance you could: compete in a sponsored event such as bike riding, a walk, a swim or marathon. Or how about holding your own coffee morning, bake-off or signing up for a skydive?
We have lots of fundraising ideas to help you get started, so if you're feeling charitable, or fancy having some fun for a good cause, you can visit www.barnsleyhospitalcharity.co.uk for some more ideas or call into the Charity office and see us at work. We always make time to chat to our fundraising heroes!
To donate to the Tiny Hearts appeal, text 'Tiny01' followed by your donation to 70070.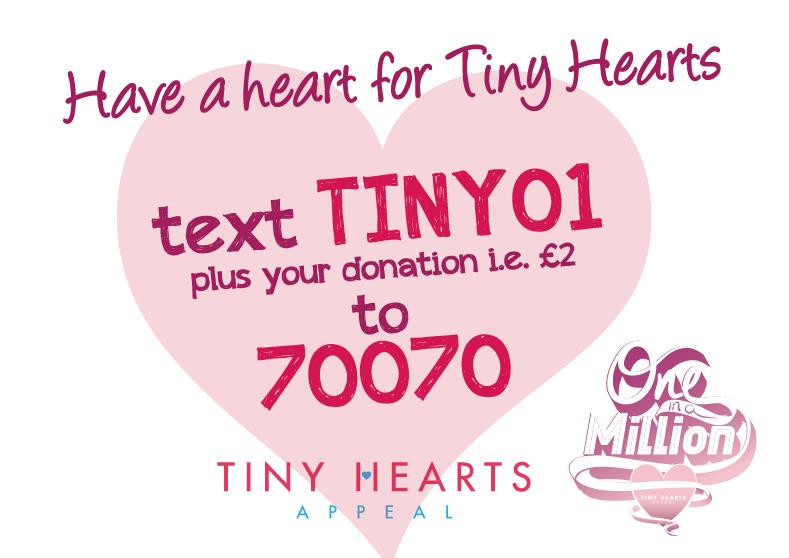 By Rebecca Louise Nicholson.