Choir Sing for The Well.
We are delighted to announce that The Ilesha Choir are performing on 23rd March in aid of The Well.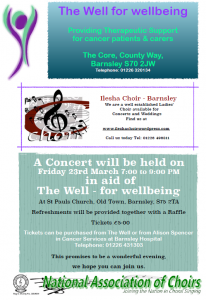 Ilesha Choir are a relatively new choir formed in 2010, who are based in Barnsley. They sing in three-part harmony, soprano, mezzo-soprano and contralto. There repertoire includes a wide range of pieces including songs from the shows, traditional tunes, as well as modern!
The Ilesha Choir concert will take place at St Paul's Church in Old Town, Barnsley.
Tickets are on sale now!
They can be purchased from The Well or from Alison Spencer in Cancer Services at Barnsley Hospital, telephone: 01226 431303.
For more information on The Well-