V-Dubbers Festive Fundraiser
Fantastic Supporters from the Barnsley V-Dubbers group along with local company T4 Campers have teamed up this year with their festive fundraiser raising vital funds for the Children's Ward here at Barnsley Hospital. Last year's event was held at Pugneys and raised a fantastic £345 as well as bringing along presents for the Children's ward. These presents will be given to children on the ward at Xmas and all year round to help make their stay a little easier.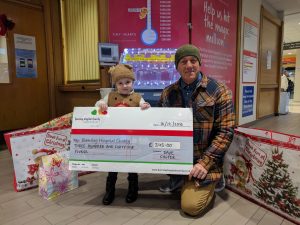 Event Organiser Dave Foster said "We are into our 4th year of fundraising for Barnsley Children's Ward, trying to make their stay a little easier at xmas time while also bringing together the lovers of all types of Volkswagen vehicles.I have collected a fantastic assortment of raffle and auction prizes once again from local generous people and businesses who continue to support me year after year"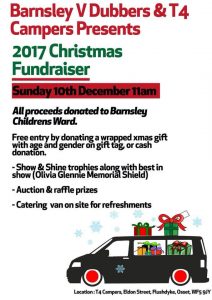 Fundraising Coordinator Lisa Calvert said "It's fantastic that Dave has chosen to support the children's ward again with his Christmas Fundraiser, there are some absolutely fantastic auction and raffle prizes on offer as well as plenty of trade shows and of course the Show and Shine trophies! It promises to be a lovely family event, we hope you can come along"
If you are interested the event is being held on Sunday 10th December at T4 Campers (WF5 9JY) from 11am.