The Sound of Success
Our fantastic Tiny Hearts supporter Jeff who works here at Barnsley Hospital organised the fantastic Rock for Cause Evening which was held on 29th September at East Dene WMC. The event featured Beardsmith along with DJ Mick West.
The event brought in over £1,260 for the Tiny Hearts Appeal bringing our current total to over £575k!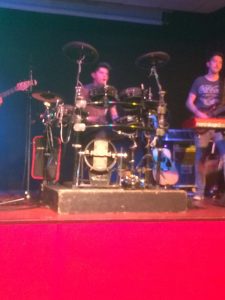 The event was kindly sponsored by GMB Union, Rhys Davies Logistics, F&G Commercials Ltd and Ortho Health+ and we would like to thank them for their  support! There was a huge number of raffle prizes donated including the star prize of a 2 night stay in a lovely holiday cottage in Wensleydale along with various vouchers and lots of wine! All prizes have been claimed and we would like to thank everyone who donated a prize along with everyone who bought a raffle ticket!
Organiser Jeff says "It was such a fantastic night and I would like to give a massive thank you to everyone who contributed, I could not have done it without you! A huge thanks to the East Dene WMC providing the venue free of charge, Keith and his bar staff who worked so hard. A special thanks to my old mate Mick the DJ and what can I say about the band they never fail to amaze me. Thanks to the caterers who supplied far too much food. Big thanks to Jay , Sarah, Amy for selling raffle tickets. Avril says I can't organise any more as it stresses me out but we will see…"