Cold Water Plunge
Sunday 22 October 2023 @ 8:00 am

-

Saturday 13 January 2024 @ 5:00 pm
We are looking for YOU to join us on our next fundraising event.
This fundraising event is more than just a dip in the cold water. Its an experience and a way to learn about the amazing health benefits that cold water immersion brings to you.
The benefits of breathwork/cold water immersion are many!
Reduces stress, increases resilience, boosts immunity, improves circulation, helps to manage pain, improves metabolism (so aids weight loss), lowers inflammation, lifts mood & increases energy.
During this event you will receive a one hour work shop before taking a dip in the beautiful cold lake at Manvers.
We can't wait for this one and hope you can join us.
Please contact us for more information , or to book your place, or use the online form.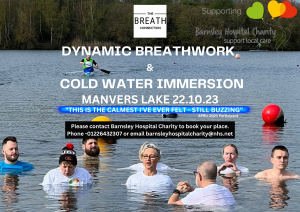 Event Registration Form
Please provide your details to register for this event. All field are required.