'Giant money box' scoops £60,000 for Tiny Hearts Appeal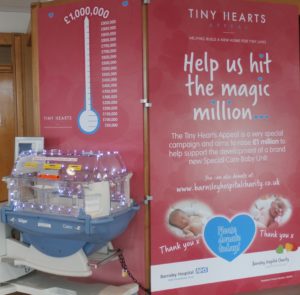 A BIG thank you to the hospital's staff, patients and public who've made a donation into our Tiny Hearts Appeal Incubator – no matter how big or small. The incubator has now raised a staggering £60,000!
The initiative was officially launched at World Prematurity Day on 17 November 2015. It has proven to be a huge success ever since, contributing significantly to the charity's Tiny Hearts Appeal. The current total stands at £621,423.84.
Could you host our 2nd incubator?
We are very lucky to have secured a second collection incubator! We would love more businesses to take our second incubator for a week or even a month to help us raise vital funds for the appeal. If you are interested in hosting the incubator and would like to rise to the challenge to see how much you can raise, please get in touch with the charity.
What is the Tiny Heart Appeal?
A campaign to raise £1 million to support the development of a new, state of the art neonatal unit. The unit is for babies who need special care and will be situated alongside the Barnsley Birthing Centre. This means that the babies will not have to be exposed to different environments and different temperature changes. Nor will they have to be taken into an elevator. Premature babies are underdeveloped and have to be given extra help for their tiny bodies to cope with the outside world. They can spend up to 13-14 weeks on the unit. The care on the unit is focused around allowing the babies to fully develop. The current unit needs to be updated and expanded in order to allow parents to have proper bonding time with their babies.
The incubator is acting as a giant money box to raise funds for the appeal. It has been sealed and secured by the Trust's engineering department to ensure it is safe.
If you'd like to support the Tiny Hearts Appeal, you can make a donation online at www.justgiving.com/tinyhearts or alternatively, contact the charity on 01226 431650.