Penistone Boundary Walk
Sunday 20 May 2018
£5
Dig out those walking boots – join in the annual Penistone Boundary Walk!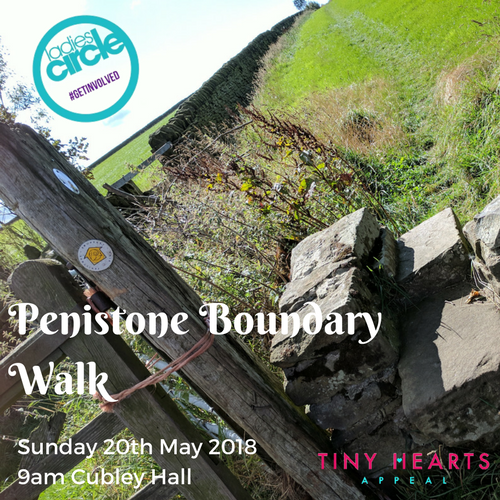 Taking place on Sunday 20th May 9am from Cubley Hall, Penistone. Get your friends, family and four legged friends in gear for an 8 or 16 mile walk around the historical boundaries of Penistone. Follow the well marked route, take in the beautiful countryside and enjoy the day.
There's a light refreshments stop along the route. Those who complete the walk will also be proud owners of a Penistone Boundary Walk pin badge.
The charity event is organised by Penistone Ladies Circle and supported by Cubley Hall and the Penistone Round Table.
Monies raised will go to Tiny Hearts Appeal 
£5 suggested donation for entry or get yourself some sponsors and raise even more!
To pre-register your place or to get a sponsorship form, simply email: penistoneboundarywalk@gmail.com, otherwise just turn up on the day!
To find out more check out our Facebook Page @LadiescircleS36 or click here to download the route.